This guide is based on experience but does not cover all cases.
We advise you to review the EC's rules of participation, SME definitions and other guides.
Have the following information ready
1st step
Business Email Address
2nd step
Legal Company Name
Registration Country
Company Legal Form (e.g. Corporation)
Legal Address
Phone
3rd step
Registration Date
Revenues

=turnover as of last tax return (only if you have filed one and if you have revenues)


Balance Sheet Total

as of last tax return (or as of now if you have never filed any)


Shareholder info ONLY IF any person owns > 50% or any company owns 25%+
Participation info ONLY IF your company owns 25%+ shares in another daughter company
Step 1: Create a Personal Account
Set up your username and password:
https://ec.europa.eu/research/participants/portal/desktop/en/organisations/register.html
Click on Register

Create an account
Fill in: First name, Last name and e-mail.
Then, click on Create an account.
Check the box By checking this box, you acknowledge that you have read and understood the privacy statement to acknowledge the privacy conditions.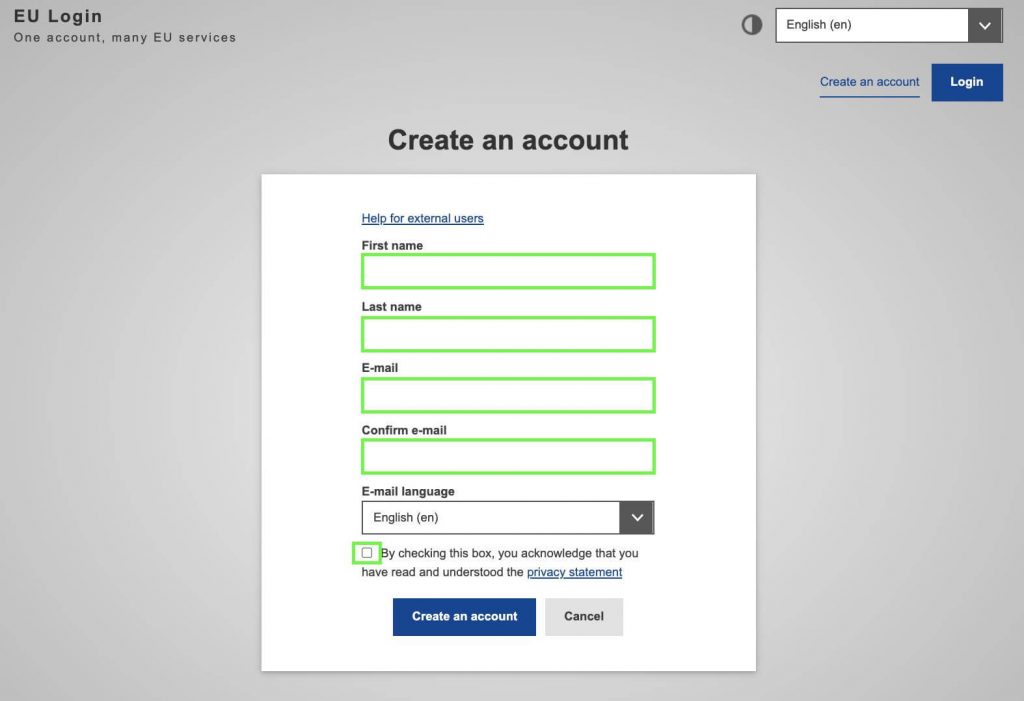 Then, set up your password – you will receive an email containing a link where you can set it up. It usually takes about 5 minutes to receive that email. Use a password you can share with us.

Use the link provided, clicking on "this link" to set a password. If it does not work, access the second link provided in the email sent to you.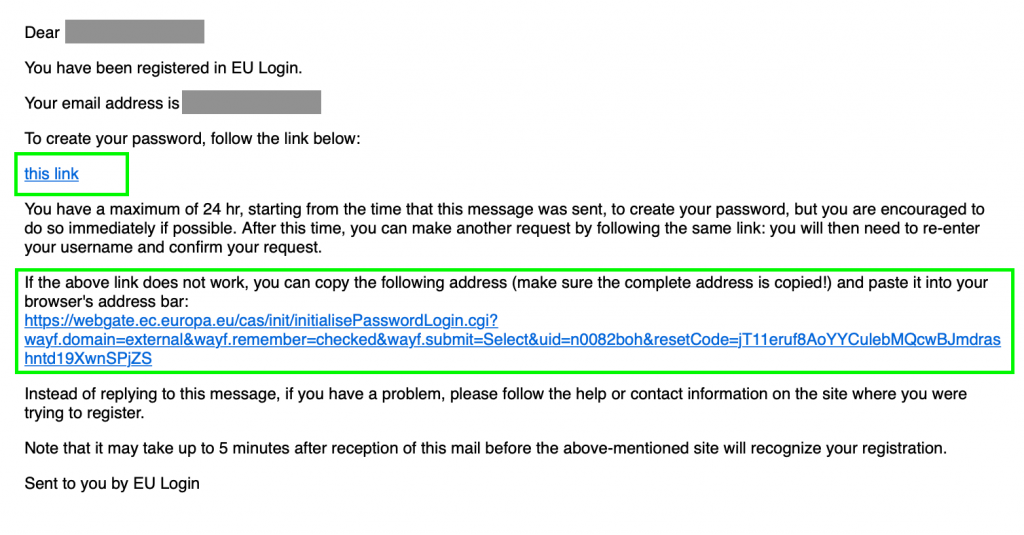 Now, you can create a new password: Enter your password into the New password field and confirm it in the Confirm new password field.
Then, click on Submit: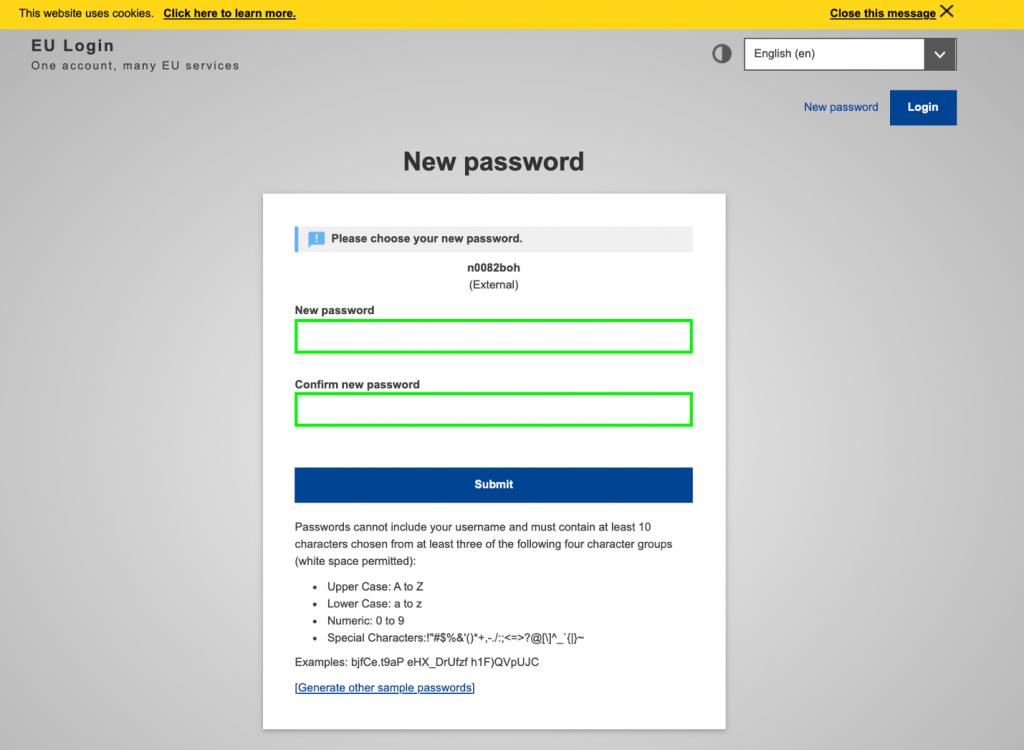 Once your password is saved, you can automatically log into the platform:

If you like, you can enter more information clicking on your Name and choosing My Account on the right upper corner:
Step 2: Create PIC Number
Sign into the Portal and go to this link to register your organization to get a PIC number:
https://ec.europa.eu/info/funding-tenders/opportunities/portal/participant/register
First, please accept the Terms and Conditions and check the box for I have read and agree to the Terms and Conditions of the Funding & Tenders Portal. Then, click on Continue: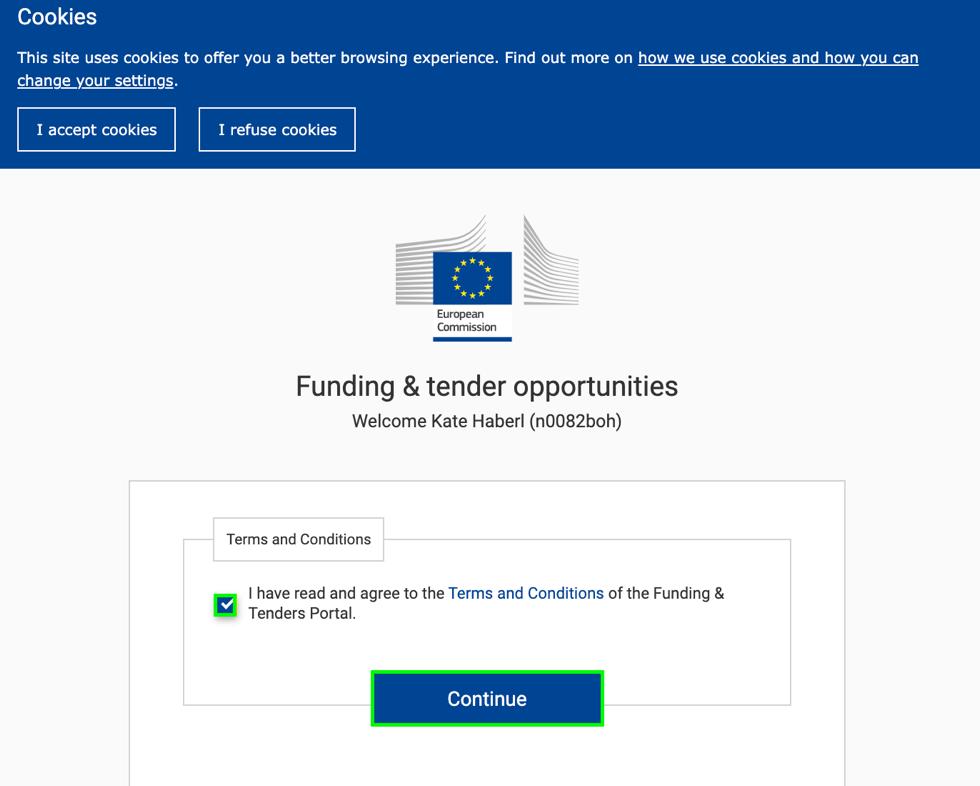 Once you have accepted the conditions, you will be guided to the Participant's Register Page. Click OK:
Identification Site:
Now, fill in the Identification information:
Fill in all information you have (at least the obligatory fields):
• Legal Name: the company name you have registered
• Establishment/Registration Country: drop-down
• Registration Number: not required, the number in the trade register
• VAT number: If you don't have one yet, click on "VAT number not applicable"
• Website: not required (can be added, if preferred)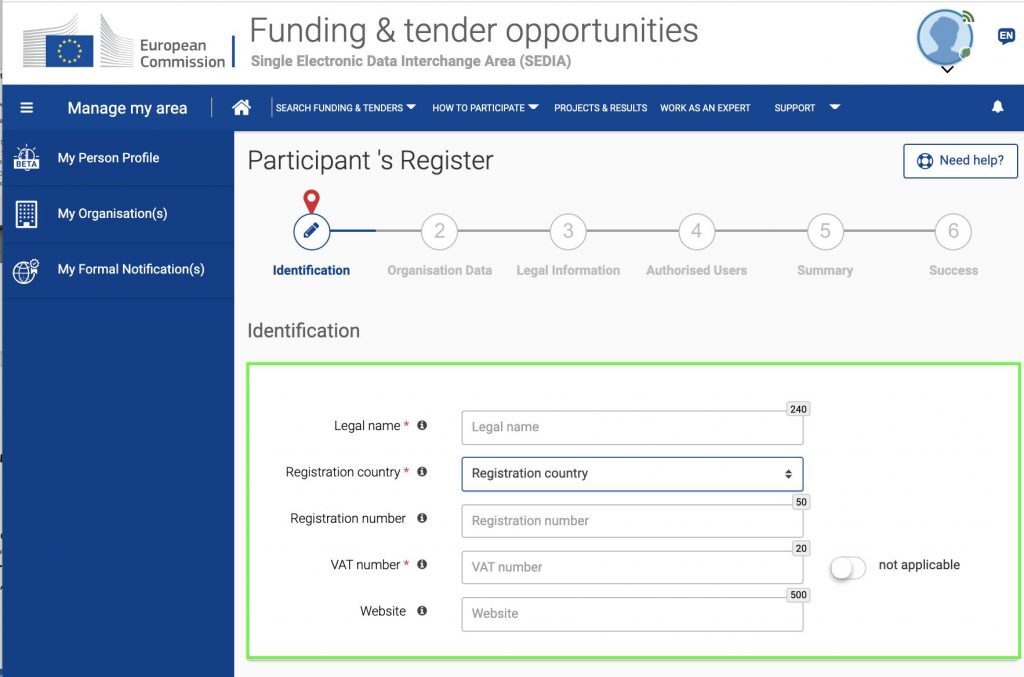 The portal will propose PIC numbers. If you see your company and do not remember which username and password you used to sign up your company, contact the organization (= yourself) and the email address that was used to register will receive a message from the Participant Portal. Then, you can reset your password.
To create a new PIC number, scroll down and check the box for If none of these organisations corresponds to company name, please tick the checkbox to continue the registration and click on Continue registration:
Fill in Organisation Data: Only the fields with a * are required (green in screenshot)
• Legal Name*: prefilled from steps above
• Business name: name of your business
• Address*: This is usually the address of the headquarters. If natural persons: permanent residence
• Postal code*: The postal/ZIP code of the organisation's legal address. A is a letter, N is a number.
• P.O.Box: not necessary, to be filled in, only if your organisation use a postal box
• City: The official name of the city where the organisation was established.
• Registration Country*: prefilled but can be edited
• Phone*: Business phone number, Format: +3222990740
• Fax: not required, Format: +3222990740
• Website: not required but recommended
• Official language: choose English or whatever you speak

Fill in Legal Information:
The only required field is Legal form. However, you also have to check all boxes, according to the information that applies:
• Legal entity type: private entity / public entity
• Legal entity qualification: non-profit / for profit
• SME Self-Declaration: Yes / No
• Is it a civil society organization: Yes / No
• International organization: Yes / No
• International Organisation of European Interest for H2020 (IOEI H2020): Yes / No
• International Organisation of European Interest for Digital Europe (IOEI Digital Europe): Yes / No
• International European Research Organisation for Horizon Europe (IERO Horizon Europe): Yes / No
• Research organization: Yes / No
• Secondary/Higher education establishment: Yes / No
• Gender equality plan: Yes / No
Fill out the information that applies and click on Next.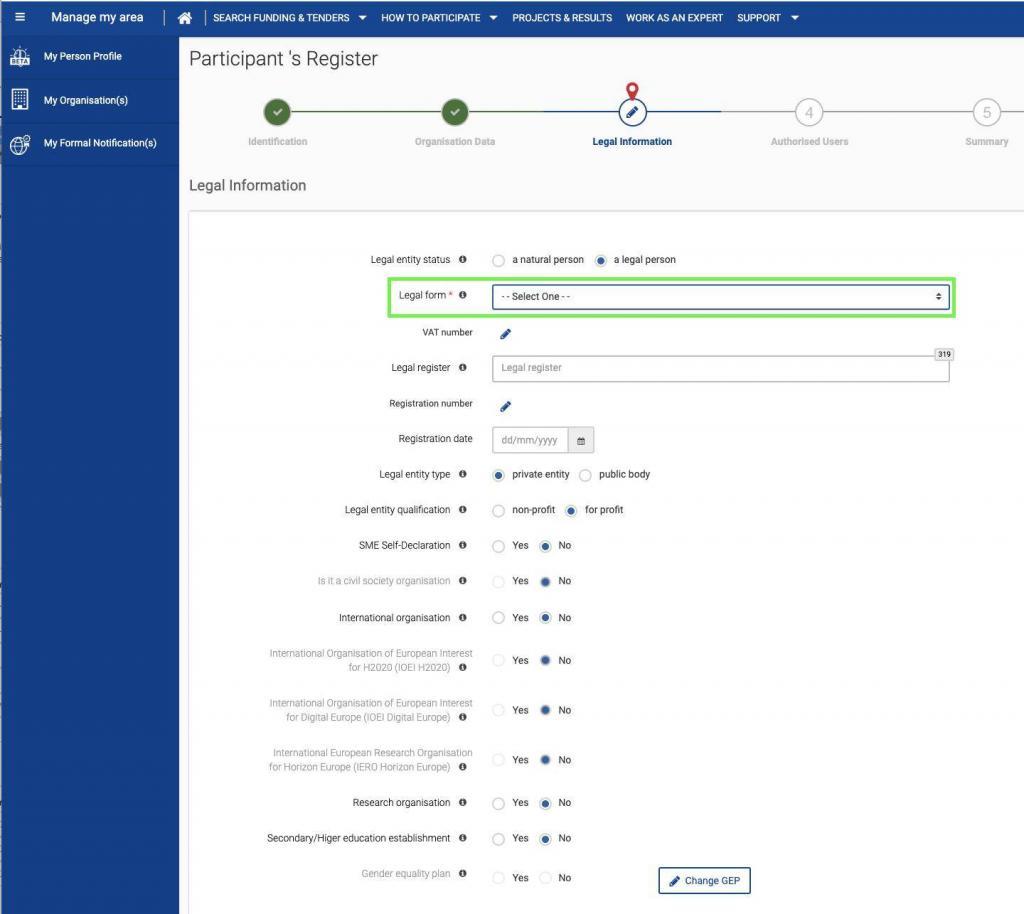 Authorised Users:
It is recommended to add an authorized user to access to your organization as a back-up function.
Click on + Authorised user, if you want to add an authorized user, as suggested: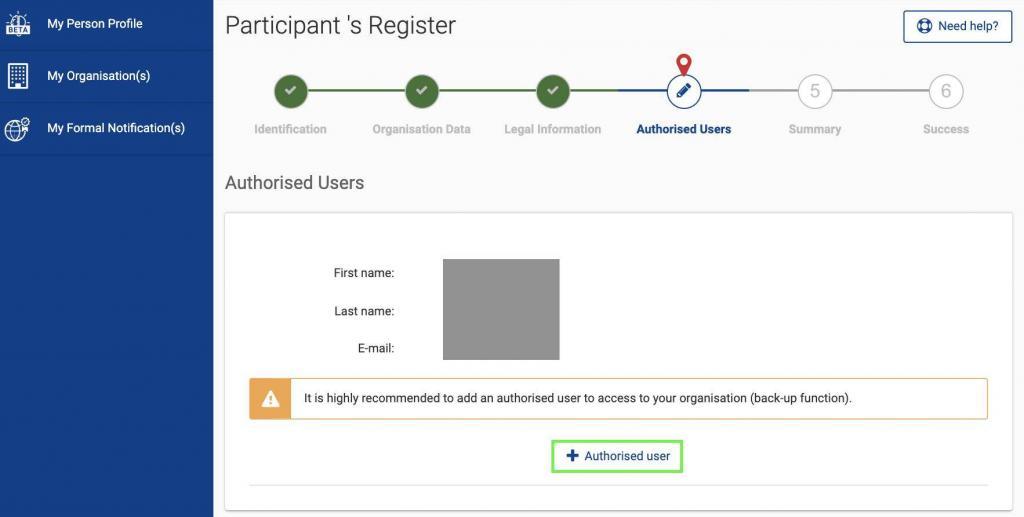 When adding, enter their First name, Last name and E-Mail.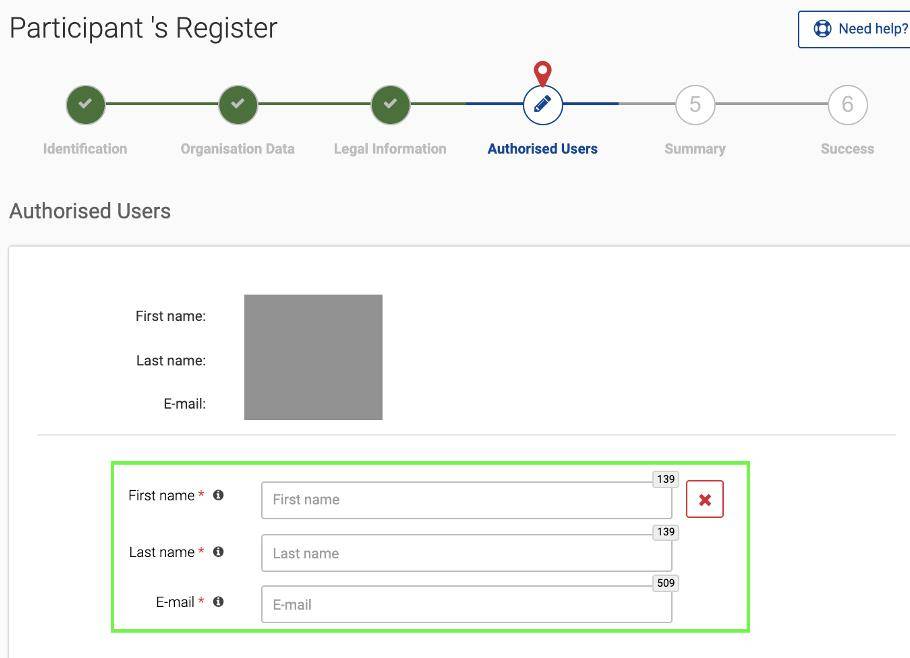 Now, you can review all information on the Summary Page.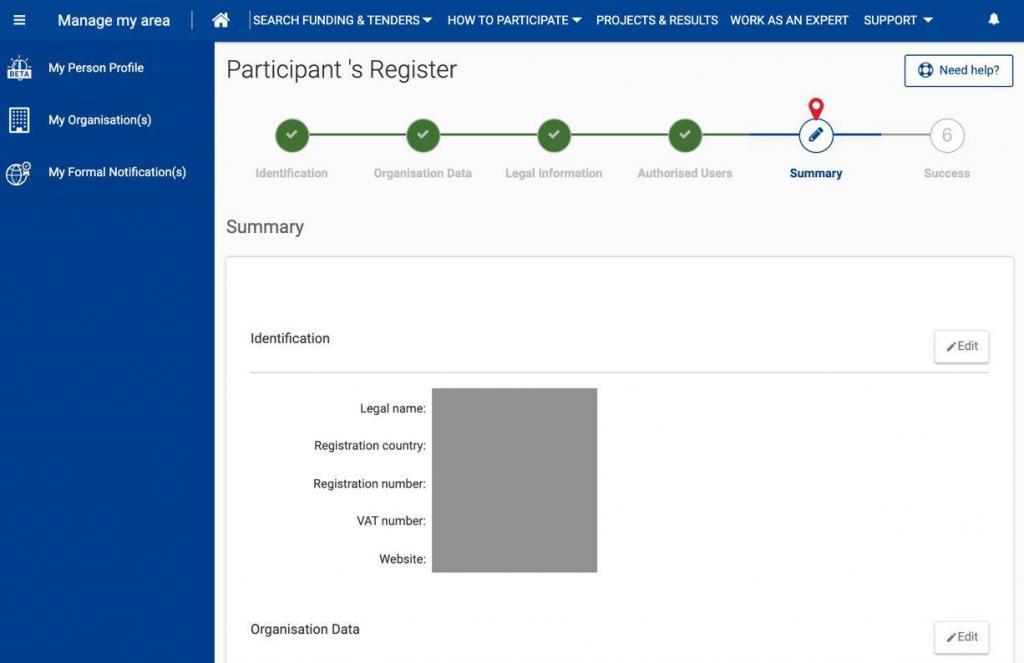 Check the information, scroll down and click on Submit.
Now, you can see your PIC number you have created: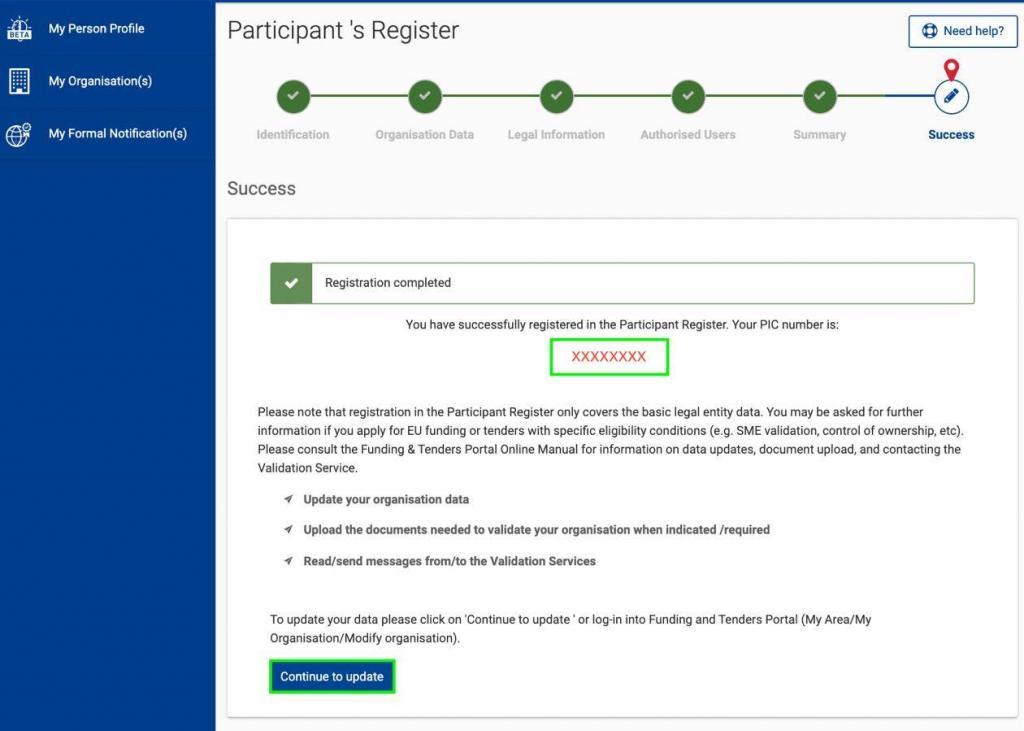 Click on Continue to update